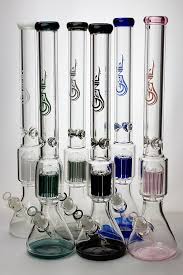 23" Genie 12-arm-Glass Bong 9mm
This 23 inches height is simple color accented classic style beauty bong. by Genie Glass. Producing 9 mm thickness tubing is very costly to product but it is well worth due to its gorgeous looks. Extra-thick, heavy, 9 mm borosilicate glass is used to make beaker-shaped bong with an unusual percolator! A 12-arm color percolator breaks up your hit into smaller bubbles, which cool and filters smoke and creates a fascinating show! Ice notches in the tube allow you to drop in a few cubes and get an even cooler toke!
The sleek design bong features a reinforced, bi-stable 18 mm joint, ideal for 14/18 mm down stem attachments. A roomy, thick glass slide bowl with an 14 mm joint and matching color handle is included.
Quality Borosilicate Glass
Height : 23"
Thickness : 9 mm -
Tube : 2" (Mouthpiece) / 3" (Percolator)
Beaker base : 5"
Color : Clear body / Color matched percolator, bottom and mouth piece.
Martini bowl for 14 mm female joint
3 Pinched Ice Catcher
Diffused Downstem  5.5"(Top to bottom)
3 Pieces