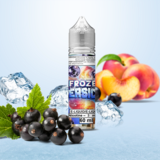 Frozen Persicor BY VANGO SALTS
This flavor contains a medley of juicy peaches along with sharp, yet sweet blackcurrants and topped off with the signature VanGo cooling blend!
Some even consider it indescribable with its exotic blackcurrant tones and notes of peach that make it a unique & sweet fruit blend. It's loaded with flavor, from those juicy peach undertones that make every hit simply perfect!
We took things a bit further with an extra touch of VanGo's proprietary cooling and combined it with only the sweetest Peaches and Blackcurrants!