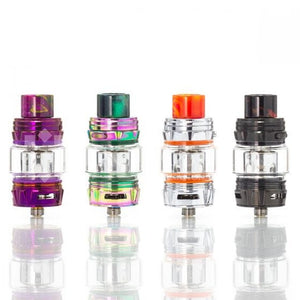 Horizon Tech Falcon2 TANK (CRC)
$45.99

$45.99

Save

$14.00
---
---
The Falcon King Sub Ohm Tank by Horizon Tech is a dream come true for both cloud chasers and flavour enthusiasts. The revolutionary design of the Falcon King offers powerful performance that is complemented by an elegant and high-quality chassis. Constructed out of stainless steel and paired with a unique colour matched drip tip, this tank will look stunning when paired with any vape device. 
With the Horizon Tech Falcon King Tank, you will have the ability to experience vape juice like never before with its advanced bamboo pulp wick. Yes, you heard that right, the new line of atomizers that come with the Falcon King will incorporate wick from bamboo which provides better tasting flavour and a longer lasting lifespan for the coils. Another cool feature is this tank is compatible with the entire family of Horizon Falcon Coils whether a previous model or newer model.
Juice capacity is plentiful with the Horizon Tech Falcon. Utilizing a Pyrex glass bulb shaped tank, you will have the ability to fill a whopping 6ml of juice. This allows you to take your Falcon King everywhere you desire without worrying about running out of juice or having to carry an extra bottle of vape juice with you. 
The new push action filling mechanism grants you a simple and effective way to refill your tank. Days of spills and messy fill-ups are over. Overall the Horizon Falcon King Tank is a well-balanced sub ohm tank that will reward your taste buds with ultimate flavour while providing a nice and satisfying cloud with each hit. 
PRODUCT FEATURES
25.4mm Diameter

Spring-loaded filling system

Two Fill Ports
6mL Maximum Tank Capacity (Bubble Glass)
4mL Maximum Tank Capacity (Regular Glass)

HorizonTech Falcon Coil Family

Vertical Coil Orientation

M-Dual Falcon King Coil

0.2 ohm
Vertical Coils
Liquid Guiding Element

Bamboo Fiber and Organic Cotton

75W

M1+ Mesh Falcon Coil

0.2 ohm
Macro Mesh
Liquid Guiding Element

Bamboo Fiber and Organic Cotton

80W

Gold Plated 510
Stainless Steel and Glass Construction
PACKAGE CONTENTS
One HorizonTech Falcon King Sub-Ohm Tank
One 6mL Bulb Glass
One 4mL Regular Glass
One 0.2 ohm M1+ Falcon Coil Coil
One 0.38 ohm M-Dual Falcon Coil
Spare Parts Bag