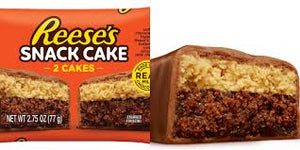 REESE'S SNACK CAKE-CRUNCHY
Though they're extremely dense, Snack Cakes are soft and delicate. You won't have to chomp into the bars or break through any hard chocolate shell to enjoy them. The outer layer of milk chocolate is super thin, the cake is squishy, and the peanut butter is a bit creamier than that in a Reese's Peanut Butter Cup.
The three layers — chocolate, peanut butter, and cake — complement each other nicely, but the Snack Cake packs a slightly more mild flavor punch than a cup does. And for those wondering, the Snack Cakes taste great cold. I obviously put one in the fridge to check.