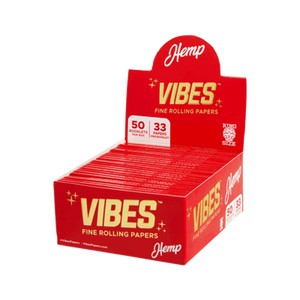 Vibes Hemp Papers-King Size
Elevate your next dry herb session with the Vibes Rolling Papers - King Size Slim. Available in either rice or hemp-based papers the Vibes King Size Slim Rolling Papers are able to hold more of your material than the standard cone size, while still letting it's flavor flourish. The thin nature of the rice or hemp paper you choose means less "paper smoke" to mix with your material's smoke, so your flavor won't be sullied. These are King Size Slim rolling papers and can hold around 1 gram of dry herb.
Users looking for a longer-lasting session will enjoy the Vibes Rice Rolling Papers - King Size Slim. Rice paper burns a little slower than their hemp counterpart, however, the flavor experience is still elite with Hemp Vibes Rolling Papers, just with a semi-quicker burn rate.