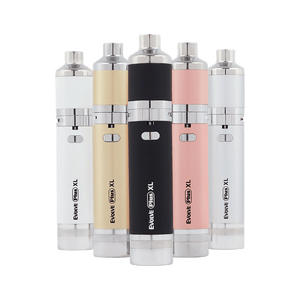 YoCan Evolve Plus Xl
$59.99

$59.99

Save

$20.00
---
---
Yocan Evolve Plus XL Vaporizer
The Yocan Evolve Plus XL is a thorough rework of the blockbuster Evolve Plus. The extra powerful quad coil quartz atomizer provides four times the surface area of the average wax pen, delivering huge, dab-like clouds that you'd expect from an eNail, while still maintaining a compact experience. Designed with a 1400mAh battery that has 25% more life than its predecessor, the Evolve Plus XL packs a punch in performance and portability. The mouthpiece connection is magnetic for the added convenience and allows you to easily control the airflow to really personalize your experience. In addition to a hanging ring and lanyard, the Evolve Plus XL includes a detachable, built-in dual compartment silicone jar, enabling you to you to discreetly carry your waxy substances on-the-go. Pocket-friendly and stealthy, the Evolve Plus XL puts the power of a dab-rig in the palm of your hand.
Maintenance
Keep your Yocan Evolve Plus XL clean to ensure optimum operation. Use isopropyl alcohol to clean any stubborn areas that have residue. Replace the atomizers periodically; atomizers have a lifespan of roughly 6-8 weeks, depending on use.
How It Works
First assure your Yocan Evolve Plus XL is fully charged. To do that, charge via the USB provided–the charging port is located on the back of the device. The LED indicator on the Evolve Plus XL is built into the power button. The LED will light up red when charging and will turn off once fully charged. The Evolve Plus XL will take 2 hours hours to fully charge.
To load: pull out the magnetic atomizer tube and unscrew the magnetic coil cap. Use the loading tool to apply your concentrates (a grain of rice sized amount works best), then proceed to put the coil cap and the atomizer tube back onto the Evolve Plus XL.
Press the button five times to turn the Evolve Plus XL on. The button will flash three times to indicate that the unit is on. Hold down the button and vapor will begin to produce. Inhale slowly.
What's In The Box
1x Yocan Evolve Plus XL
1x Extra Quad Coil Quartz Atomizer
1x Loading Tool
1x Micro USB Charging Cable
1x 1400mAh Battery
1x Lanyard
1x Hanging Ring
FEATURES
Quad Coil Quartz Atomizer
Magnetic Mouthpiece Connection
Adjustable Airflow
Built-In Dual Compartment Stash Jar
1400 mAh Battery
USB Charging