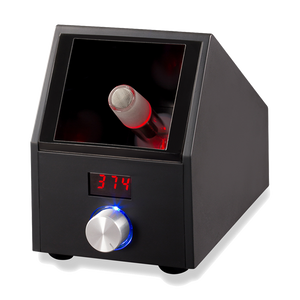 Easy Vape Vaporizer
Easy Vape
The Easy Vape is a classic box style vaporizer with a modern touch. Its ceramic heating element and glass-on-glass components produce high-quality vapor. The LCD digital display allows you to dial in to a precise temperature every time. The Easy Vape is an economical option for beginners and enthusiasts alike.
Features
Easy Vape comes standard with ground glass technology for a truly enjoyable hands-free experience. The glass wand and heater cover create a perfect seal for smooth vapor on every draw. The analog temperature knob makes it easy to dial in to your preferred temperature, which is conveniently displayed on the bright digital display.
How it Works
Select your desired temperature and allow Easy Vape to heat. While you're waiting, load your blends firmly into the glass wand. Place the glass wand over Easy Vape's glass heater cover and begin to draw. Continue to turn the temperature up throughout your session to get the most out of your material.
Maintenance
For best functionality, be sure to clean and maintain Easy Vape regularly. The glass wand, mouthpiece, and stainless steel screen can be soaked in isopropyl alcohol. The whip tubing will need to be replaced at your discretion; the whip tubing will fill with residue and start to affect taste negatively and restrict airflow.
What's in the Box
Easy Vape Vaporizer
Whip/Wand Assembly
Glass Wand
2.5' Whip Tubing
Glass Mouthpiece
User Manual
FEATURES
Ceramic Heating Element
Glass-on-Glass Components
Digital Temperature Display
Hands Free Whip Delivery System
Analog Temperature Dial