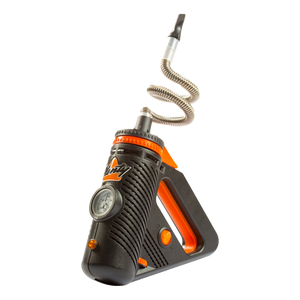 Plenty vaporizer By Storz & Bickle
$325.00

$325.00

Save

$25.00
---
---
Plenty Vaporizer
The Plenty Vaporizer by Storz & Bickel, the same company that brought us the Volcano, is a powerful and robust, yet silent and lightweight handheld vaporizer that is ideal for home use. The Plenty offers first-class design and produces large amounts of flavorful vapor.
High Tech
The Plenty incorporates several cutting-edge thermal engineering features that enhance the vaporization experience, maximizing flavor and efficiency. The stainless steel whip effectively cools vapor as it passes from the heating chamber to the user, which prevents hot air from masking delicate flavors. The all-new double helix heat exchanger is a ground-breaking thermodynamic feature that heats up in half the time of the Volcano, and maintains a static temperature while the user draws from the whip.
Unmatched Quality
The Plenty is hand-crafted in Germany by Storz & Bickel and is constructed of top quality materials, ensuring first-rate durability and functionality. Storz & Bickel uses only food-safe and aroma-free materials in the construction of their products.
Superior Vapor
The Plenty's vapor quality is similar to the Volcano: dense, flavorful, and pure. The Plenty's effective vapor production system makes for an enjoyable experience without the learning curve or multitude of components found in other vaporizers. Simply load your blends in Plenty's filling chamber, select your desired temperature on the Temperature Adjustment Wheel, engage the heater, and enjoy high quality vapor!
What's in the Box
PLENTY Vaporizer
Filling Chamber
Mouthpiece
Cooling Coil
3x Normal Screens
Liquid Pad
2x Short Tubing Section
2x Long Tubing Section
Cleaning Brush
Storz & Bickel Grinder
User Manual
FEATURES
Silent Operation
Double Helix Heat Exchanger
Lightweight, Ergonomic & Discreet Design
Adjustable Temperature Dial
Easy-to-Read Temperature Gauge