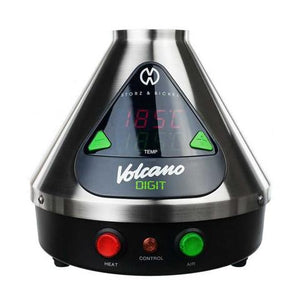 Storz & Bickle Volcano Digital Vaporizer
$734.99

$734.99

Save

$73.01
---
---
Discover the Best Vapor Quality with Storz & Bickel Volcano Vaporizer,
The Volcano vaporizer by Storz & Bickel is one of the most highly-regarded and sought-after vaporizers on the market today. Known for its precision engineering and top-notch performance, the Volcano is a must-have for any serious vaper.
One of the standout features of the Volcano is its powerful heating system, which is capable of producing smooth and flavorful vapor in just a matter of seconds. The device uses a unique convection heating method, which heats the air before passing it through the herb, ensuring that every hit is consistent and satisfying.
The Volcano is also incredibly versatile, with a range of temperature settings that allow you to customize your vaping experience to your preferences. The device also comes with a variety of accessories, including a filling chamber and valve set, which make it easy to pack and enjoy your favorite  herbs.
Another key benefit of the Volcano is its durability and reliability. Built to last, the device is made from high-quality materials and is designed to withstand heavy use over time. Plus, the device's sleek and stylish design is sure to impress any vaping enthusiast.
Overall, the Volcano by Storz & Bickel is a top-of-the-line vaporizer that delivers outstanding performance and versatility. Whether you're a seasoned vaper or new to the game, the Volcano is definitely worth the investment if you're looking for a high-quality, reliable, and satisfying vaping experience.