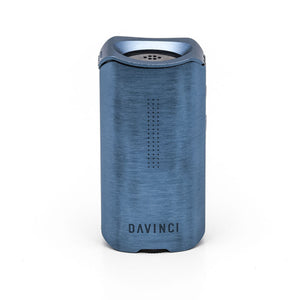 DaVinci IQ2
The DaVinci IQ2 delivers a more customizable vaping experience than its predecessor, the IQ. Durable and ergonomic, this dual-use vaporizer includes a Dosage Pod for concentrate consumption. In addition to Smart Path™ Technology and precision temperature control, the IQ2 enables tracking and reporting of dosages through the device and Bluetooth smartphone integration.
With 35% more air holes and a new Air Dial™ feature, the IQ2 lets you choose from five levels of airflow. Designed for pure flavor transfer, the IQ2 features an airtight, glass and ceramic zirconia airpath; the vapor path's shape has been redesigned for easy cleaning.
Featuring heat-not-burn conduction, the vaporizer's glass-lined oven is 20% thicker and supports up to .5 grams of dry herb, or a .2-gram Dosage Pod. Use the Pearl to extend the oven size an additional 30%. A removable and rechargeable 18650 battery enables the IQ2 to heat up in less than 60 seconds.