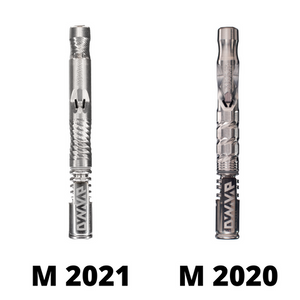 Dynavap 2021 M VAPORIZER
A list of new stuff
There's a lot of changes, so let's get to it. From tip to mouthpiece, here's what they did:

Captive cap (doesn't fall off)
Double the airflow cuts
Adjust-A-Bowl (2 sizes)
Dodecagon (12-sided) shaped bowl
Heavier tip with different cooling fins
Artistic design stem
Chiral airport
Tapered mouthpiece
Mouthpiece o-ring groove
Recyclable packaging

The significance of each change is debatable, but we've divided them up into major and minor changes.

Major changes
The Captive Cap is fantastic, and doesn't unintentionally fall off anymore. The Adjust-A-Bowl has been standard on titanium Dynavaps for years, but now the M gets the microdose treatment. Adjust the screen to either 0.1 or 0.05 gram sized bowls. Finally, the Chiral airports give you greater control over the airflow, and create an internal vortex and thicker vapor.