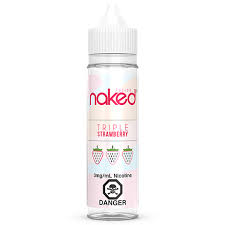 Triple Strawberry By Naked (BC)
Triple Strawberry vape juice (formerly Yummy Gum, and Yummy Strawberry) is a fruity bubblegum flavor by Naked 100 ejuice Fusion Eliquid collection. The fruity strawberry flavor takes the best of what Naked 100 offers in the fruit class and turns it into a candy vape juice. Naked 100 Triple Strawberry ejuice is a candied thirst-quenching blend of fruity strawberry and tart that will have you puffing for more in seconds.
On the inhale of Naked Vape Juice Triple Strawberry smacks the palate with tangy and sweet strawberry notes. On the exhale the flavor of sweet strawberry candy stimulates your mouth with sensational goodness.
Naked Triple Strawberry by Naked 100 comes in a 60ml Chubby Bottle. With a 70/30 VG/PG base, you can expect dense vape clouds with a solid throat hit.
Enjoy the unmistakable strawberry bubblegum taste with a sour sugar coating of Naked Triple Strawberry by Naked 100.
30ml