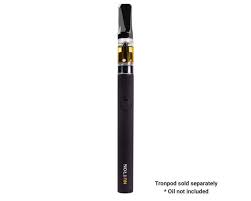 TRONIAN NUTRON- 510 BATTERY
YOU SHOULD GET THE TRONIAN NUTRON 510-THREAD OIL BATTERY IF…
You are looking for an easy to use and efficient 510-threaded battery that can fit most oil cartridges. The Nutron features button activation, child lock, and 3 voltage settings, perfect for tailoring sessions.
BUTTON ACTIVATED
The Tronian Nutron is button activated, allowing you to simply hold down the button to power your 510 oil cartridge. The button allows you to activate pre-heat mode which will warm your liquid before it's vaporized.
3 VOLTAGE SETTINGS
The Tronian Nutron offers 3 voltage settings: 2.6V, 3.3V, 4.0V. Offering users an excellent range which should work with most oil cartridges on the market.
SUPERIOR CALIBRATION
The Tronian Nutron has been thoroughly tested with a multitude of different viscosity oils. The device is designed to work with a wide range of oils and viscosities. The battery is perfectly calibrated to most efficiently work with the heating element of the Tronpod.
1 YEAR WARRANTY
The Tronian Nutron comes with a one-year warranty on the battery. Normal degradation of the battery and general wear and tear is not covered. If anything should happen to your Nutron battery within the first year of ownership we encourage you to reach out to our customer service team.
Feature Packed:
Superior Calibration
Short Circuit Protection
Overcharge Protection