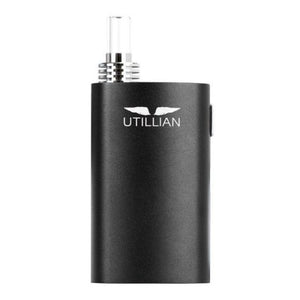 UTILLIAN 420
YOU SHOULD GET THE UTILLIAN 420 IF…
You are looking for a great budget vaporizer that offers features usually reserved for higher-tiered units. You will be hard pressed to find another vaporizer that offers a digital display, glass mouthpiece, and ceramic chamber, easily one of the best vaporizers under $100.
4 PRESET TEMPERATURES
The Utillian 420 vaporizer comes stock with 4 preset temperatures: 190°, 200°C, 210°C, 220°C. For a budget device this gives you a great range for vaporization to get yourself started. If you prefer more flavor during your session then we suggest starting with lower temperatures and if you prefer cloud production try the higher end of the spectrum.
ONE BUTTON OPERATION
The Utillian 420 vaporizer features a one button design for simple, hassle-free operation. Turning the vaporizer on and off and toggling between temperatures is all just a combination of button presses.
CERAMIC CONDUCTION HEATING CHAMBER
The Utillian 420 comes with a ceramic heating chamber which uses conduction heat to vaporizer your herbs. Conduction heat works by heating your herbs when they come in direct contact with the heat source, in this case the ceramic chamber. The ceramic works to preserve the flavor of your herbs while providing consistent vapor.
1 YEAR HASSLE-FREE WARRANTY
 If anything should happen to your Utillian 420 within the first year of ownership feel free to reach out to our customer service team. This does not cover normal battery degradation and physical damage.