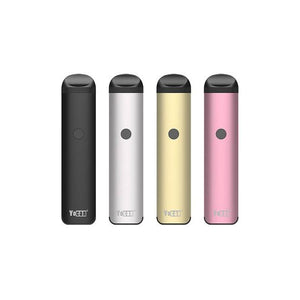 Yocan Evolve 2.0
$39.99

$39.99

Save

$49,959.01
---
---
Yocan Evolve 2.0 Vaporizer
Your favorite Yocan vaporizer just got better. The Yocan Evolve 2.0 is the newest Yocan vaporizer coming out of the Evolve line. The Yocan Evolve 2.0 runs on the pod-based system. Like most pod vaporizers, the Yocan Evolve 2.0 offers convenient and straightforward use. However, it offers functionalities you won't find on other pod vapes.
The Yocan Evolve 2.0 can vaporize essential oils, e-liquid blends, as well as wax concentrates. It also boasts three preset heat settings so you can easily adjust the battery's temperature level to suit the material you're vaping. The Yocan Evolve 2.0 also boasts premium heating elements which include their iconic quartz dual coil (QDC) in pod form. The juice and oil pods sport ceramic coils for optimum vaporization. The pods can easily be connected to the battery, it locks the pods in place with magnetic connections. A 10-second pre-heat function is included on the Yocan Evolve 2.0, perfect for long drags. The Yocan Evolve Plus 2.0 features micro USB charging allowing you to easily charge your device.
The Yocan Evolve 2.0 is an advanced pod-based vaporizer which lets you enjoy the convenience and portability of pod-based vapes while experiencing the benefits of conventional vaporizers.
FEATURES
Pod-Based Vaporizer
Refillable Pods
Magnetic Pods
Compatible With E-Juice, Oils, and Wax
Single Button Control
650mAh Battery
Variable Voltage
10 Sec Pre-Heat
Micro USB Charging
Level Window
Ceramic Coils For E-Juice and Oil Pods
Quartz Dual Coil For Wax
Slim and Sleek