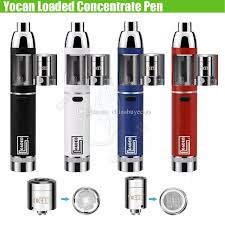 Yocan Loaded Concentrate Pen
$69.99

$69.99

Save

$10.00
---
---
YOCAN LOADED VAPORIZER
With a beastly 1400mAh battery, innovative chamber door for loading coils, and extendable mouthpiece, the Yocan Loaded is the definition of a workhorse. A detachable magnetic stash container allows for the storage of two different types of concentrates. Included with the Yocan Loaded are two quartz atomizers: a quad coil option and a dual coil option. Sleek in design, this compact vape pen packs a punch without taking up too much room in your pocket or purse.
MAGNETIC CHAMBER DOOR
To make switching out atomizers easier, Yocan gave the Loaded a chamber door that opens out and is magnetically connected to the atomizer. When you want to switch up your atomizer simply pull the door open, take the coil out, place the new one in the chamber, and close the door. Instead of having to screw and unscrew atomizers, you are now able to slide a new one in without running the risk of dropping or damaging one.
PREMIUM QUARTZ ATOMIZERS
There are two coil options for users of the Yocan Loaded, both of which come with the vaporizer. The dual quartz coil provides clean flavor and smooth vapor that stays true to your concentrate's profile. If you want larger clouds the quad quartz coil will be your go to. By doubling up the number of coils in the atomizer, Yocan ensured the quad quartz coil will produce thick clouds of vapor and reach temperature quickly. The ability to quickly switch between atomizers makes the Yocan Loaded great for large groups that might want different experiences when sessioning.
EXTENDABLE MOUTHPIECE AND 1400mAh BATTERYIf you're worried about being too close to the heating element of the Yocan Loaded, the mouthpiece is easily extended. A quick counter-clockwise turn brings the mouthpiece out further, creating a longer vapor path to help cool down your draws.
Concentrate users who find themselves needing to charge their vapes while out will appreciate the Yocan Loaded's 1400mAh battery. With a battery this size, users can expect a days worth of vaping off of one charge. The Yocan Loaded features pass-through technology, meaning you can use it while charging, and is charged upright to make it easier to vape while it is plugged in.
FEATURES
Extendable Mouthpiece
Magnetically Connected Atomizer Chamber Door
1400mAh Battery
2 Included Coils
Built-In Concentrate Compartment
What's In The Box
1x Yocan Loaded
1x Quad Quartz Coil Atomizer
1x Dual Quartz Coil Atomizer
1x Micro-USB Charger
1x Concentrate Tool
1x User Manual